Description
DSB CB-240e Electric Plastic Binding Machine
The DSB CB-240e Electric Plastic Binding machine is ideal for any copy shop or large office. The CB-240e is an electronic operated punch binding system that is fast and efficient. Built to last, this heavy-duty over-sized plastic comb binder is perfect for those that are looking to save time on those large binding jobs with the confidence that every document will have the same professional finish. This machine is suitable for most small to medium-scale commercial applications. There is a separate operation for punch and binding and a dual disengaging blade system allowing users to punch up to 24 holes.
Flexibility and practicality are essential elements of any binding system. The CB-240e has adjustable punching pins with a variety of settings, allowing users to bind documents A4 or smaller. The heavy-duty qualities of this machine makes it robust and sturdy, reliability and durability are paramount when it comes to selecting a professional machine in-order that it lasts.
When plastic comb binding is concerned, the CB-240e electric punch binding system is a great choice for your business or office.
Features
Operating Mode: Electric, 24 holes
Punch and binding mechanism are operated independently
Electric Binding and Punching
Paper Format Accepted: A4, Letter
Max Paper Width: 346mm
Paper loading: Horizontal
Max Punch: Up to 25 80 gsm paper sheets and 2 PVC sheets (0.20mm)
Hole Spacing: 14.2mm
Punch Depth: 2 settings – 2.5mm/4.5mm This is the distance between the edge of the paper and the punch holes – adjustable in three steps
Max Bind: Up to 500 80 gsm paper sheets (51mm)
Edge Guide: Yes
Weight: 23.4 Kg
Dimensions: 480mm x 505mm x 170mm
Foldable Working Base
Please contact us for binding consumable pricing.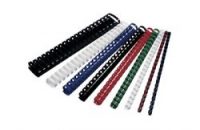 This product is available on Flexirent or Flexiown payment plans.
Please use the enquire tag above to contact us for pricing information.