Comb & Wire Binding Machine Repair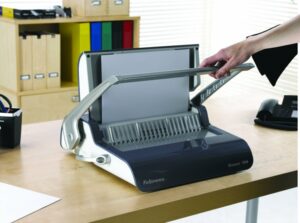 Comb Binding Machines and Wire Binding Machines, ether electric or manual, are used in nearly every office around the world.  Most people don't give them a second thought, that is until they stop working and normally that's at the worst possible time!
That's where BFH Services Ltd can help with a fast and friendly response to your Binding Machine Repair enquiry. We are based in Auckland and carry out in-house repairs for Auckland, Hamilton & Tauranga. If you are outside of these centres then we can recommend someone close by or you can send the machine directly to us for our off-site repair service.
Simply click below and enter the details on our Online Request Form and someone will contact you to discuss your needs.
Binding Machine Repairs
Fellowes Binding machine
GBC Binding machine
Ibico Binding machine
RENZ Binding machine
Rexel Binding machine
Jastex Binding machine
Thermal Binding Machines
Perfect Bind Binding machine
Powis Binding machine
Powis Parker Binding machine
Unibind Binder
Winbind Binder
Plus many other machines not listed above.